---






Sample Book Pages
from "The Complete Guide to Sony's A65 and A77 SLT Cameras"
Click here to see the full Table of Contents
---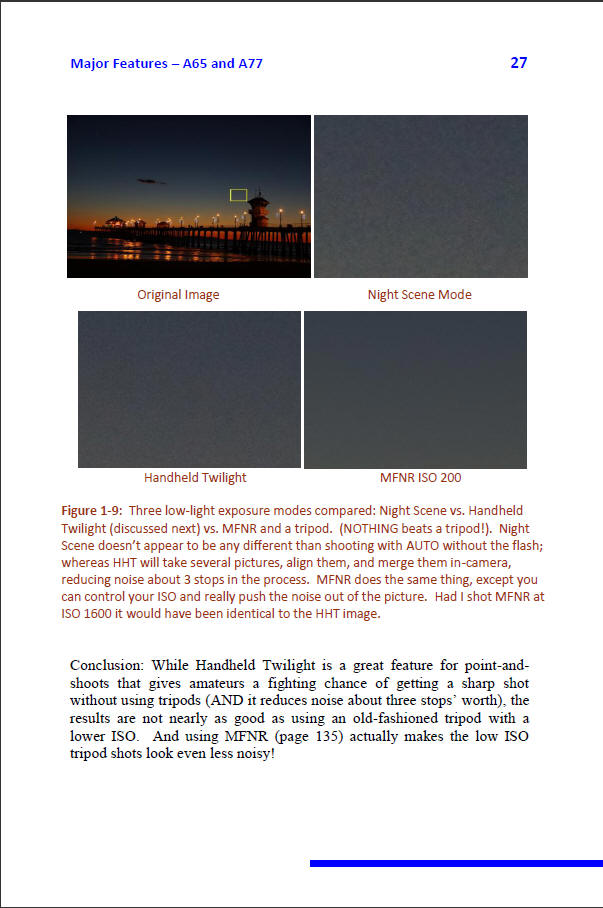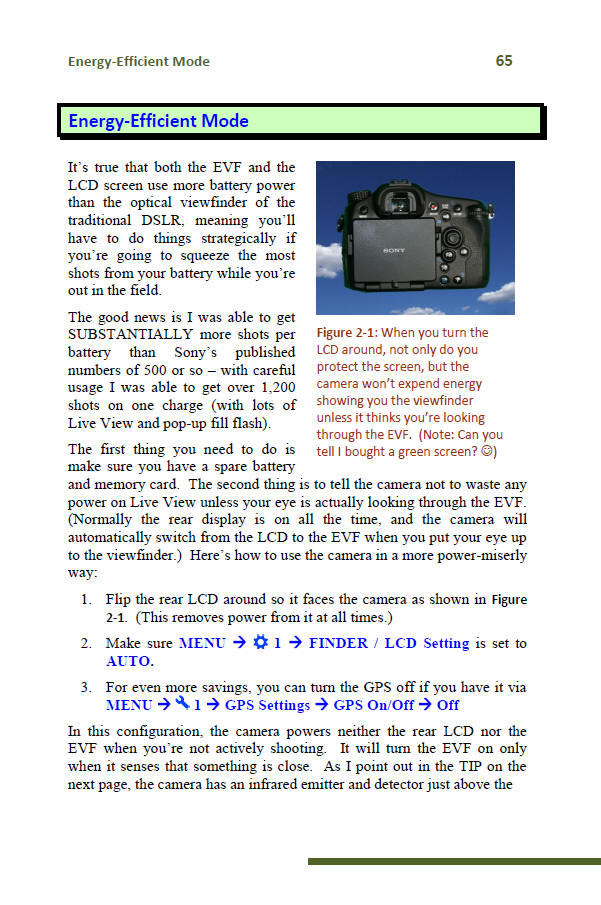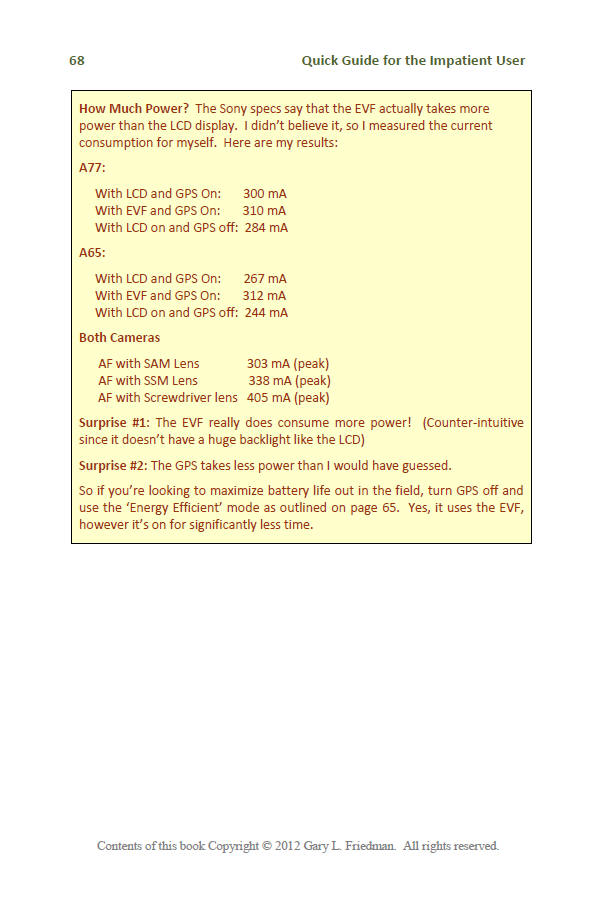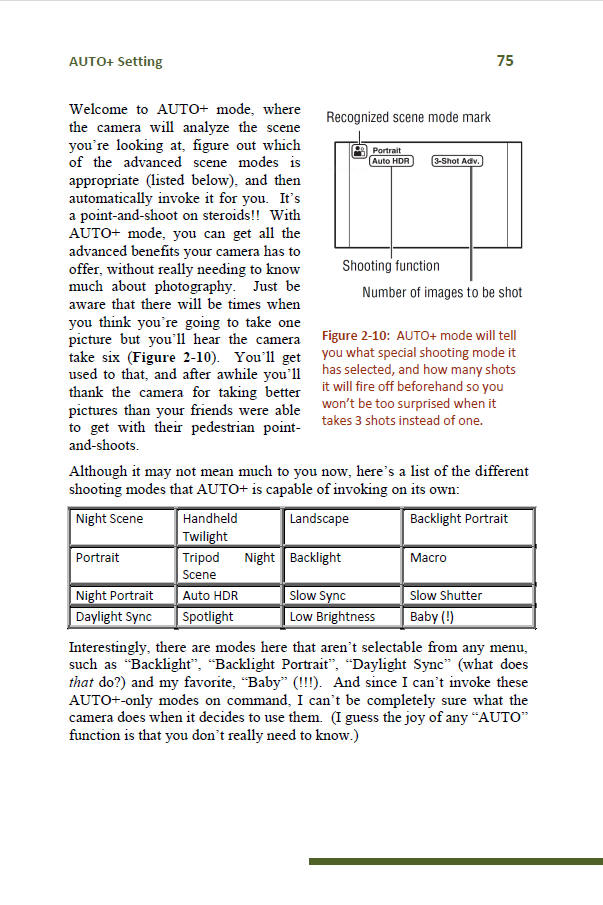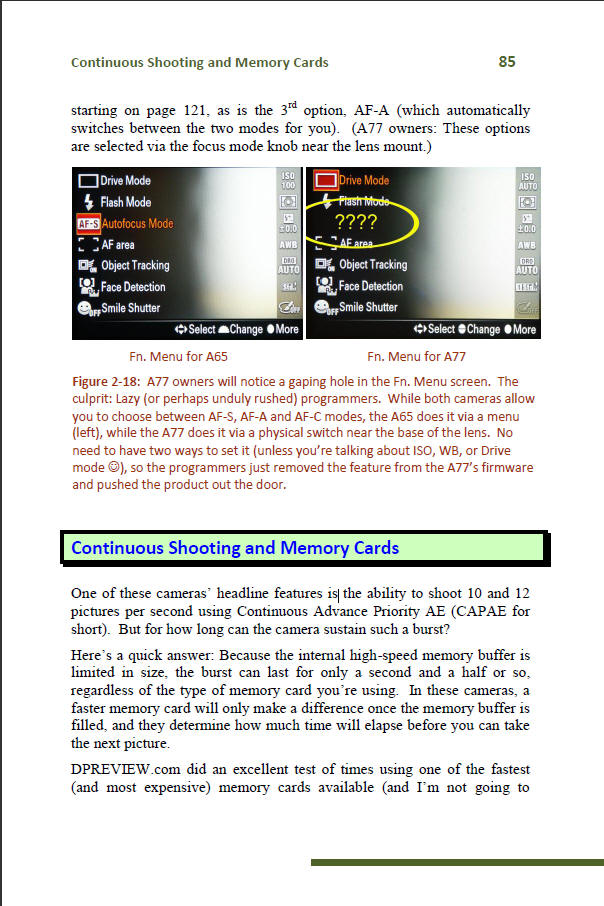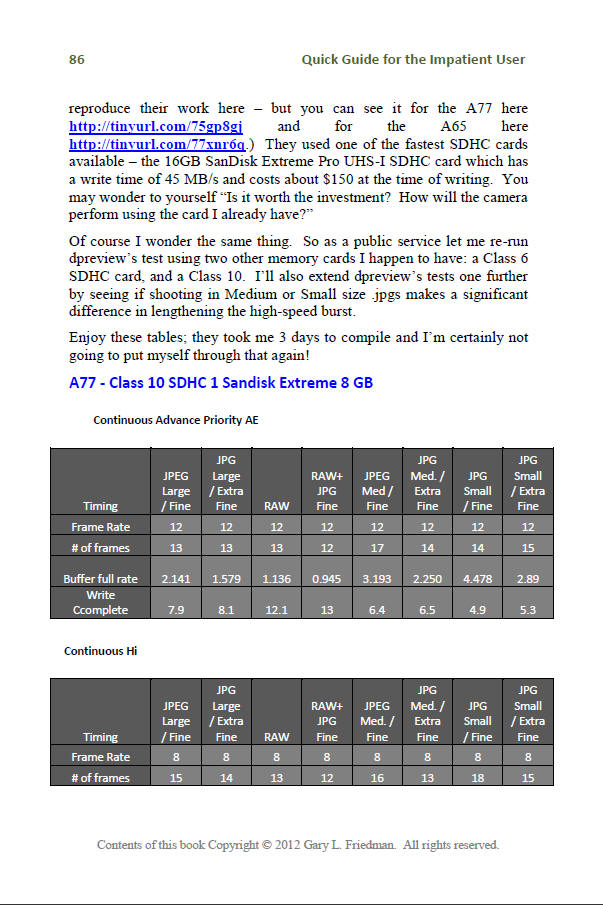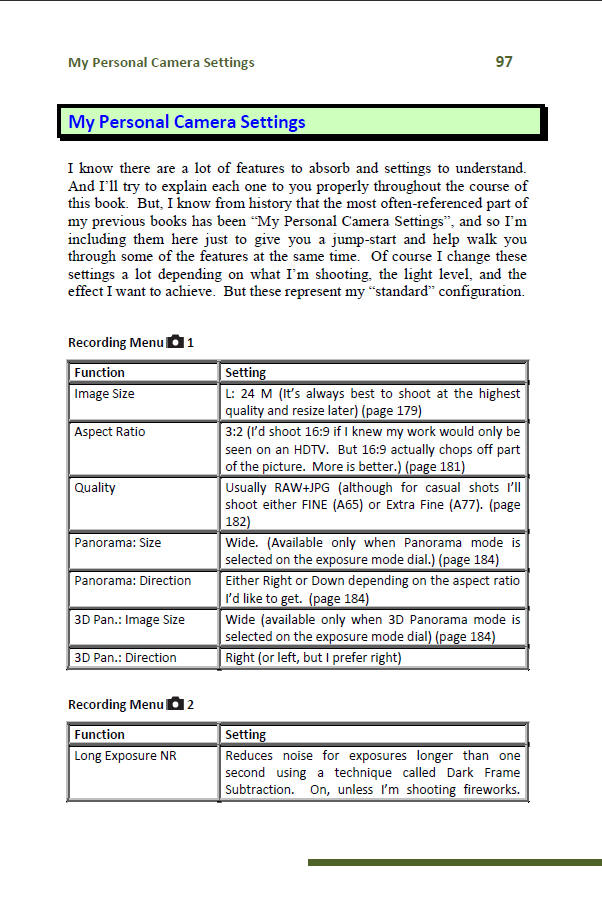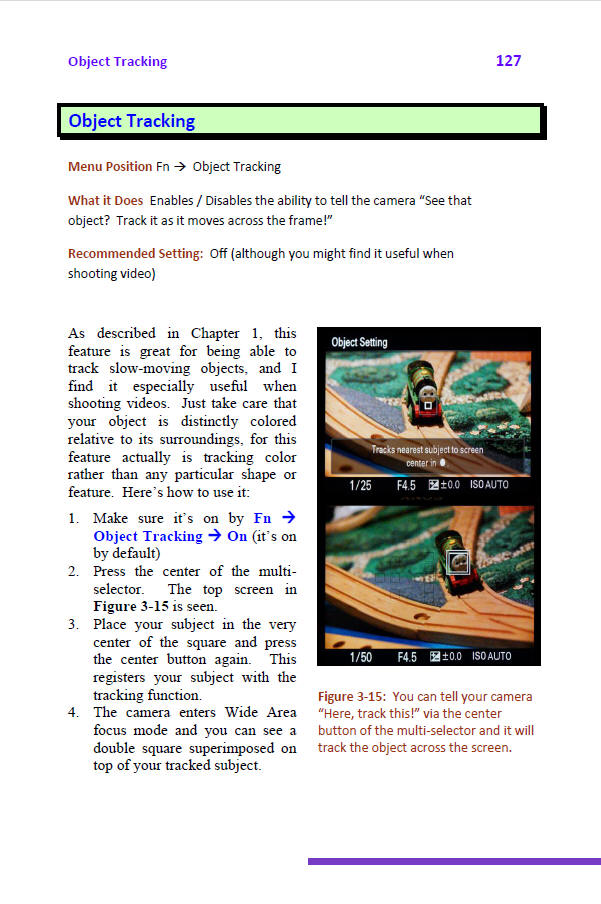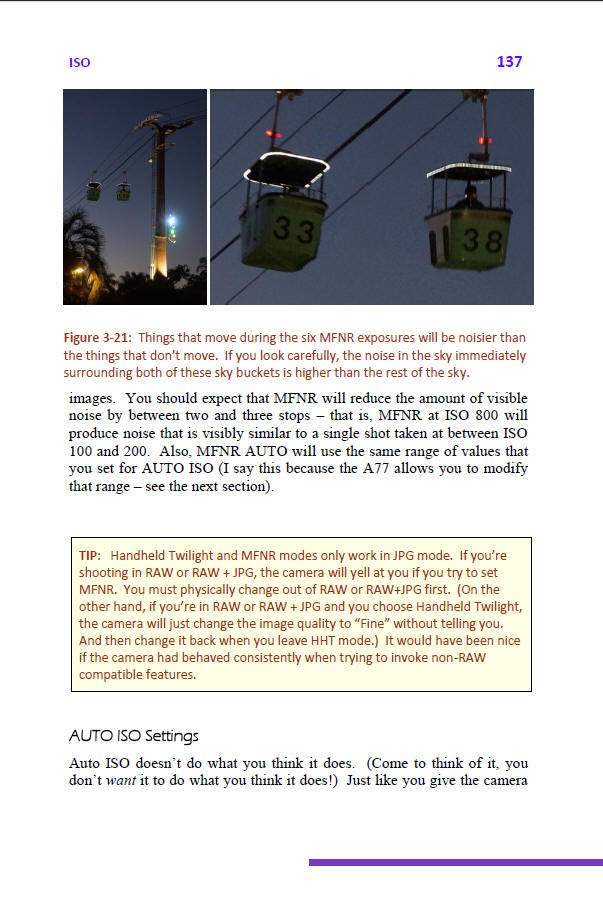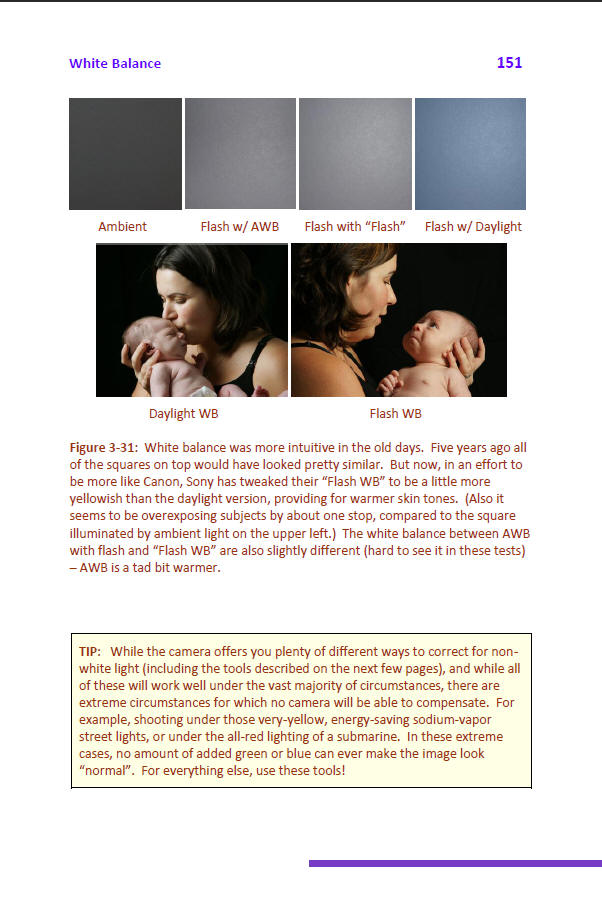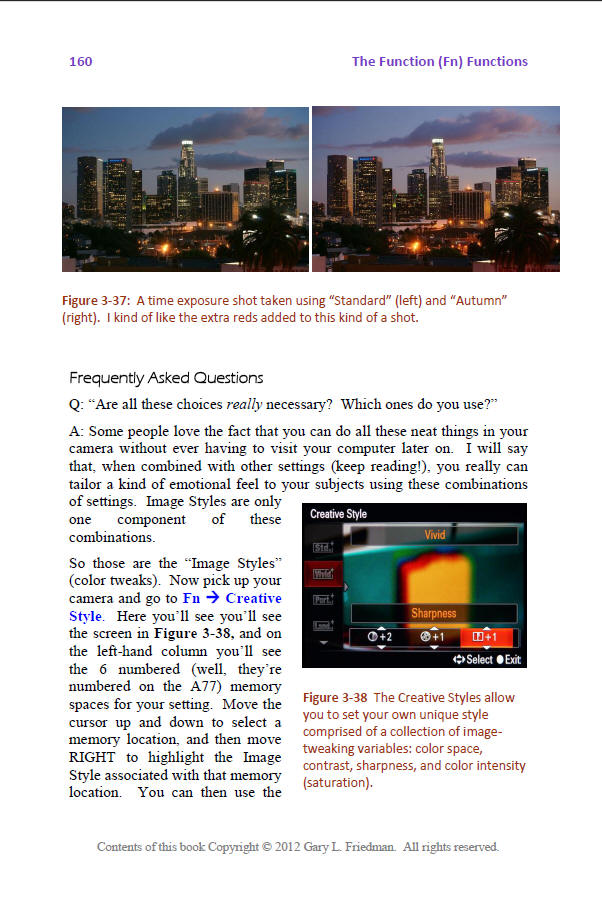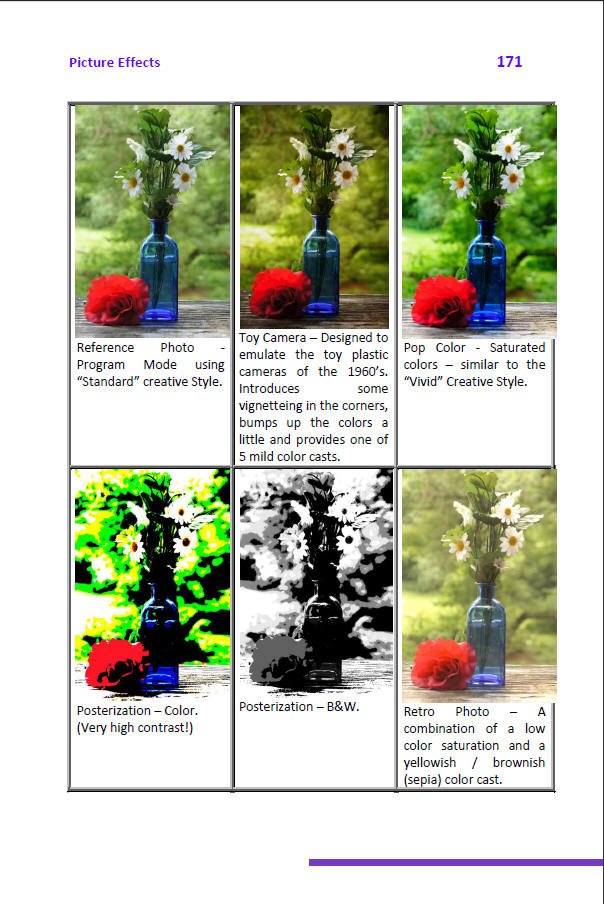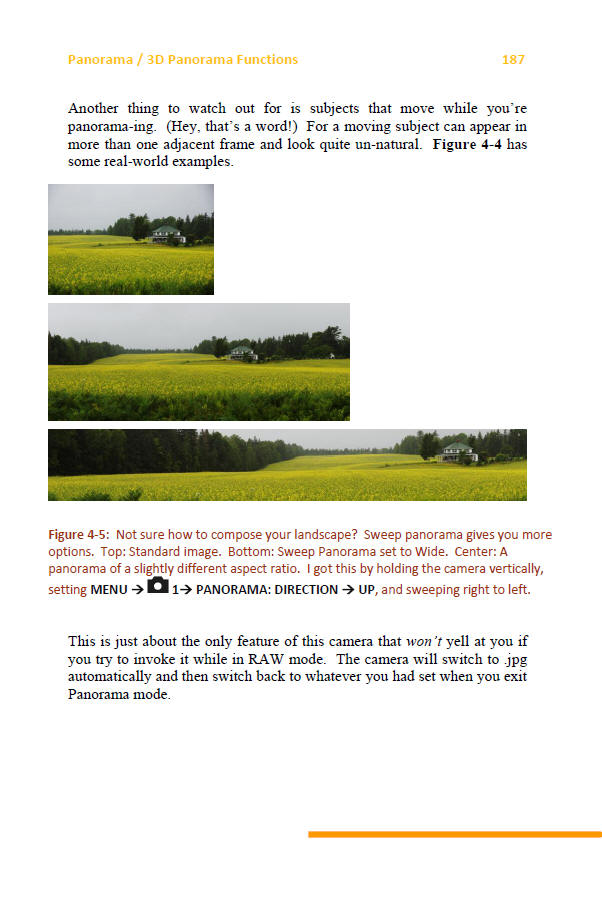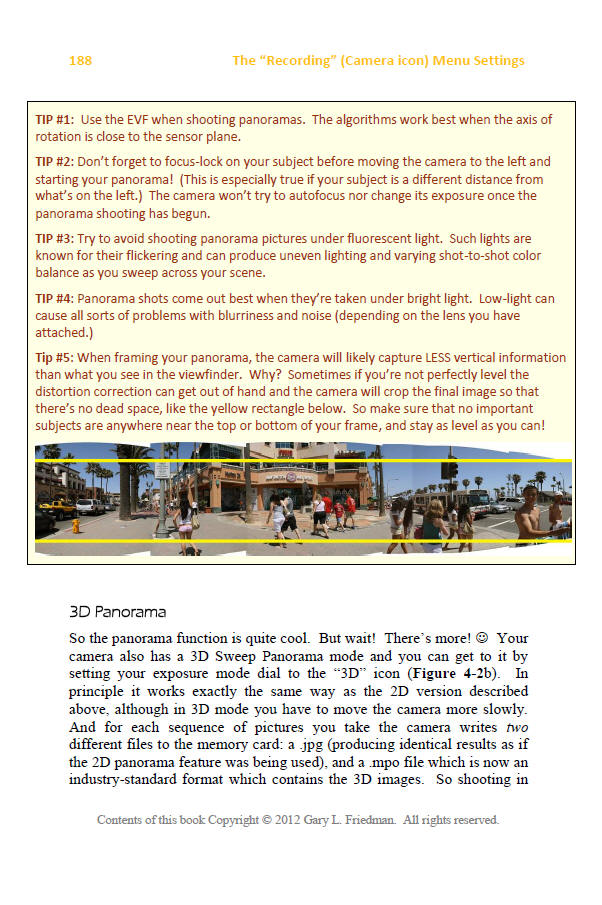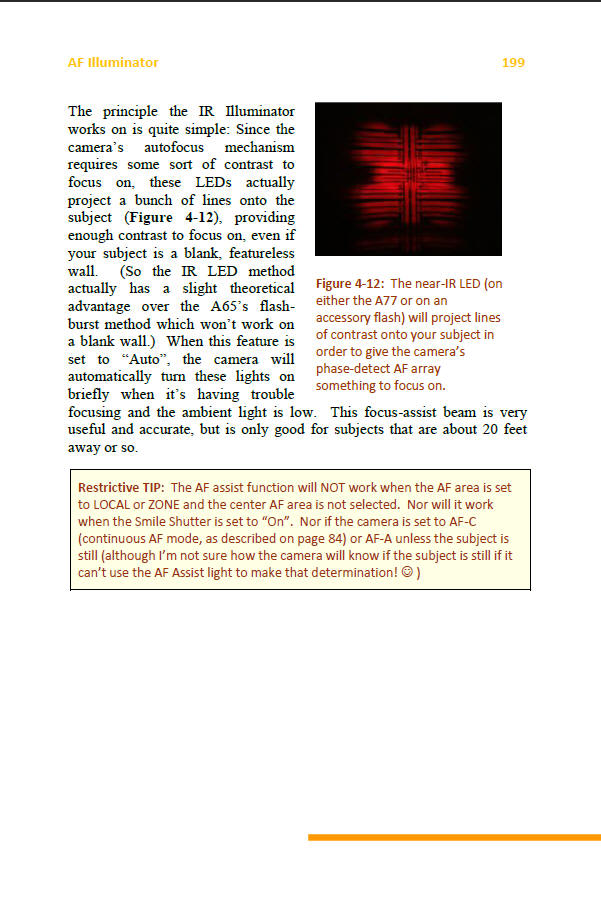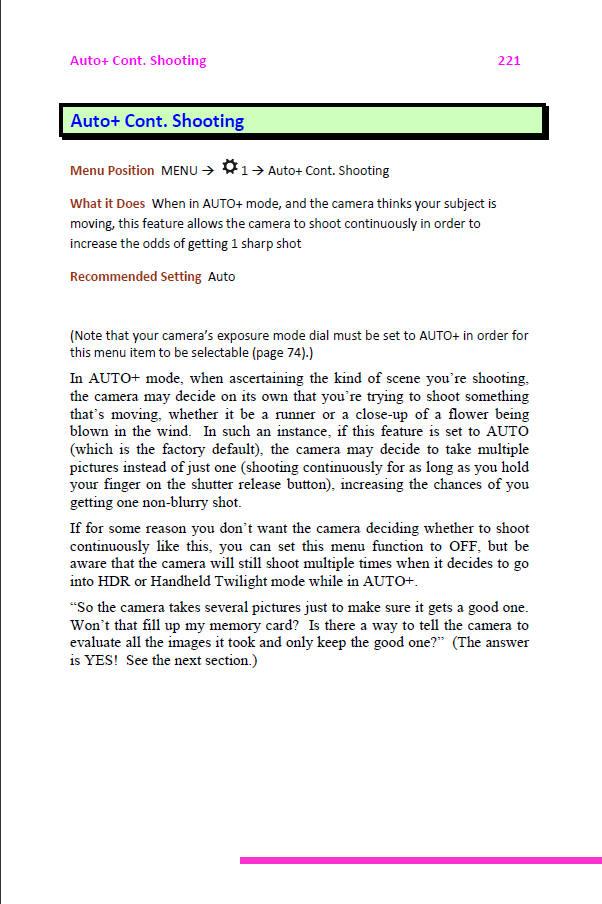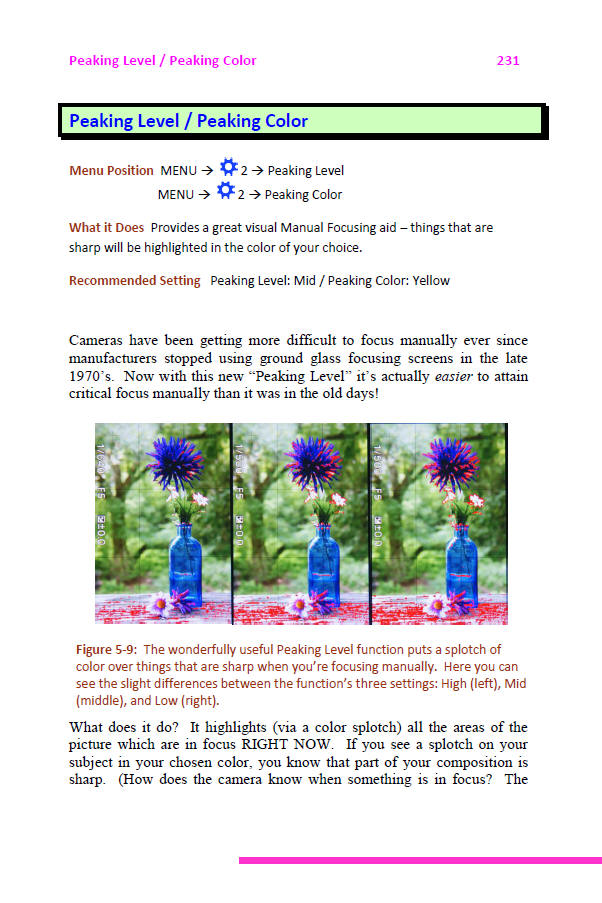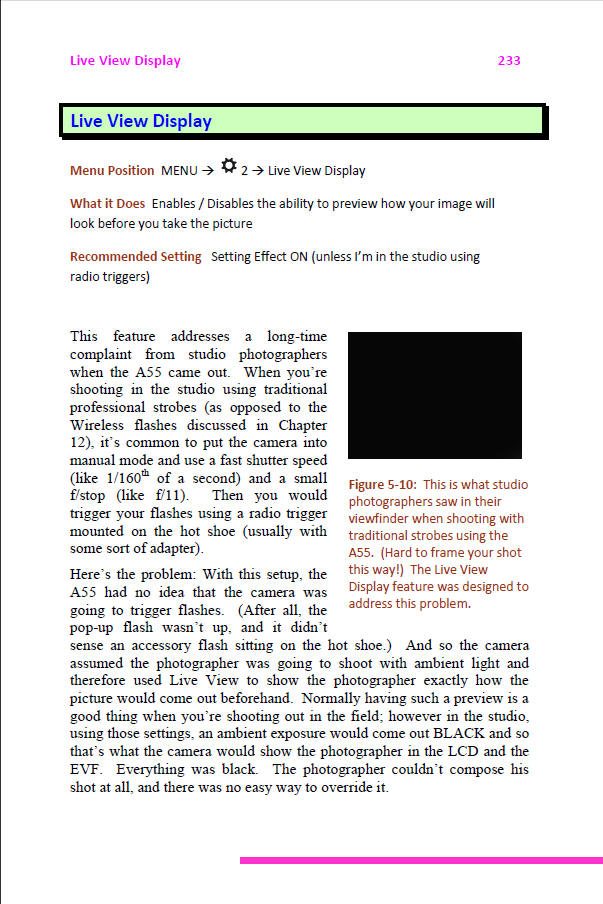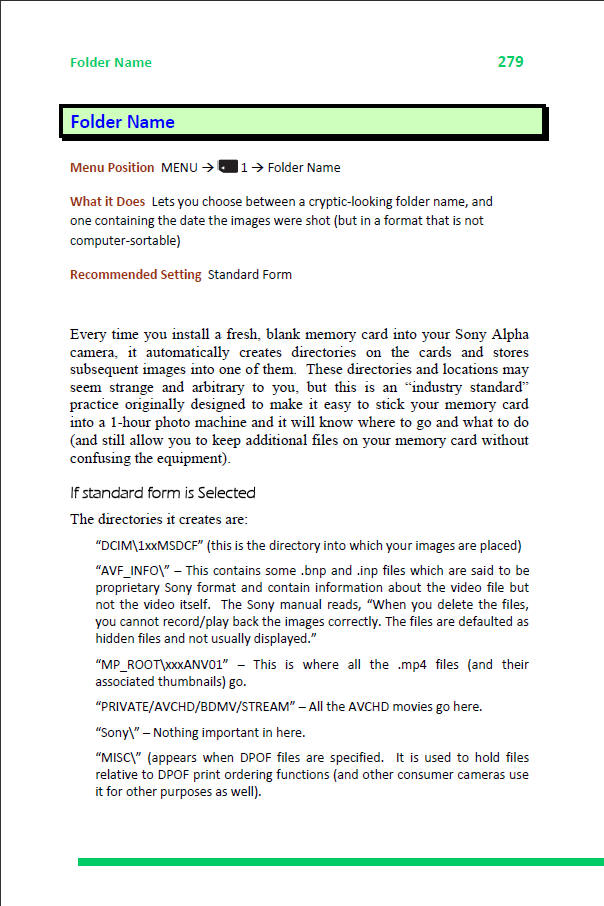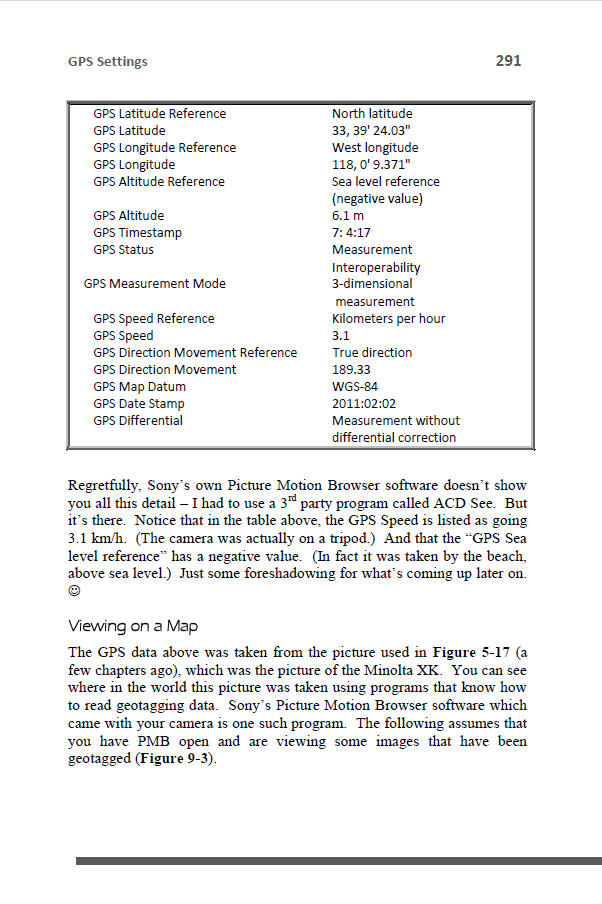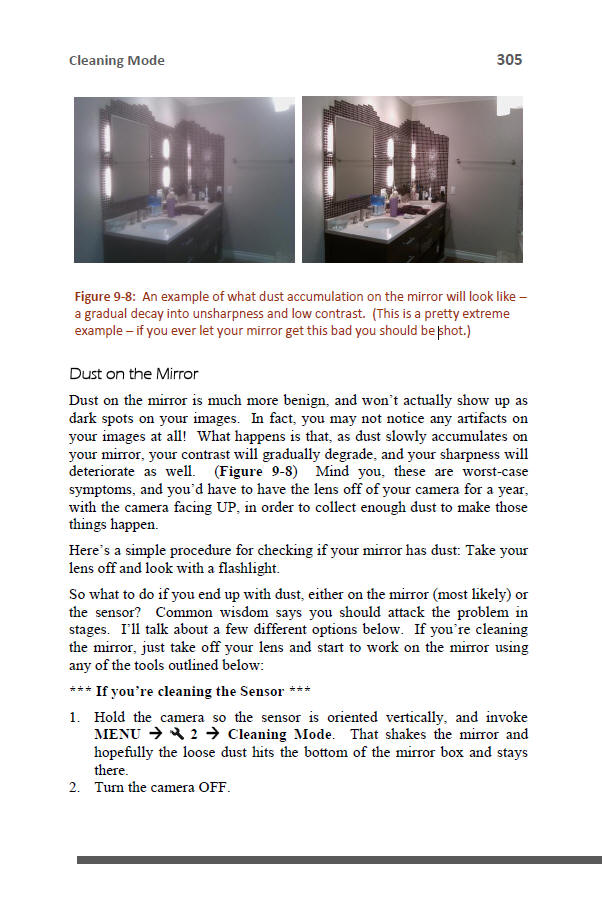 Hey, for someone who's unsure you sure are looking at a lot of pages! If you're liking what you see, then you'll be ultra-satisfied by the whole book (which you have to admit is a bargain - where else will someone explain this stuff to you so lovingly and caringly? :-) ) (Oh, and did I mention you can try the electronic version risk-free?)
Download your copy now - only $26.45!
or Click here for printed copies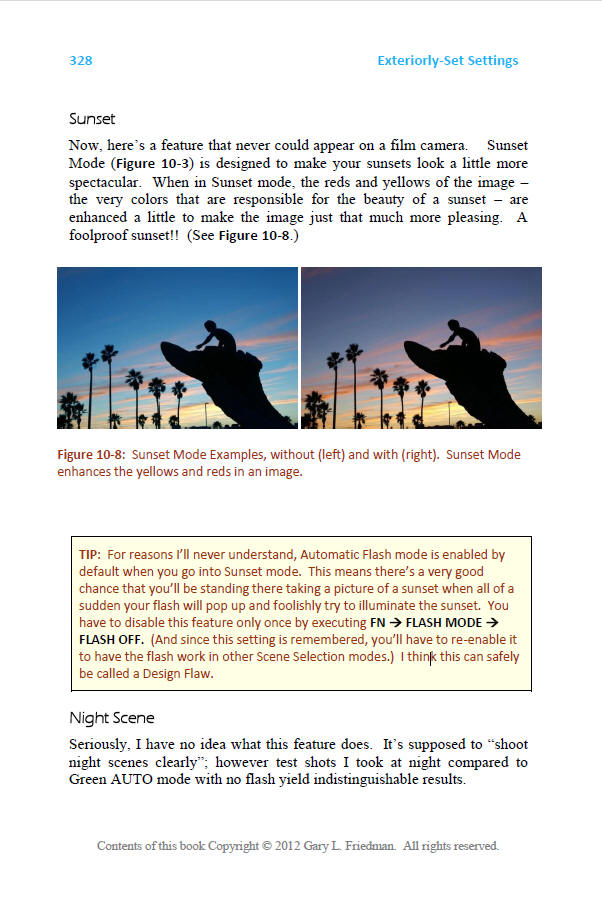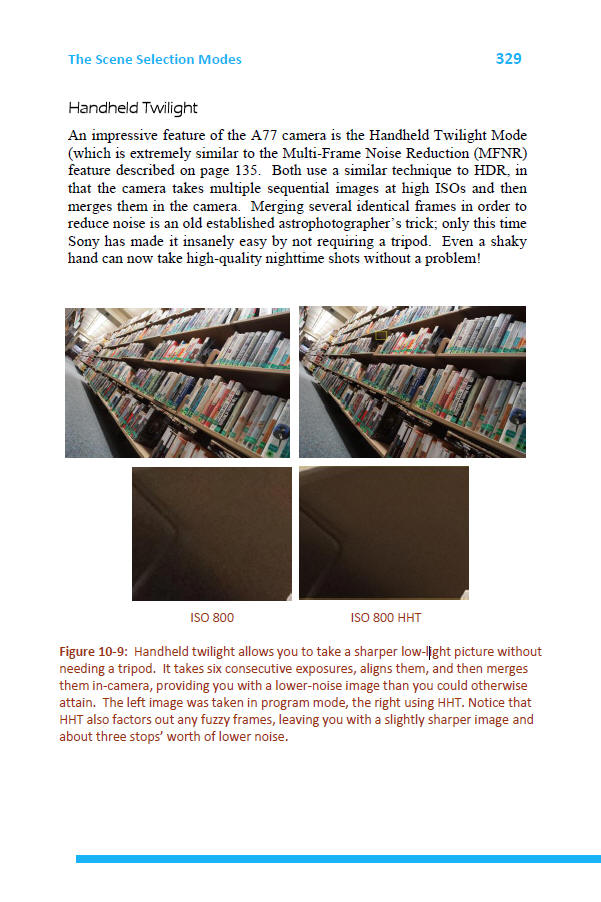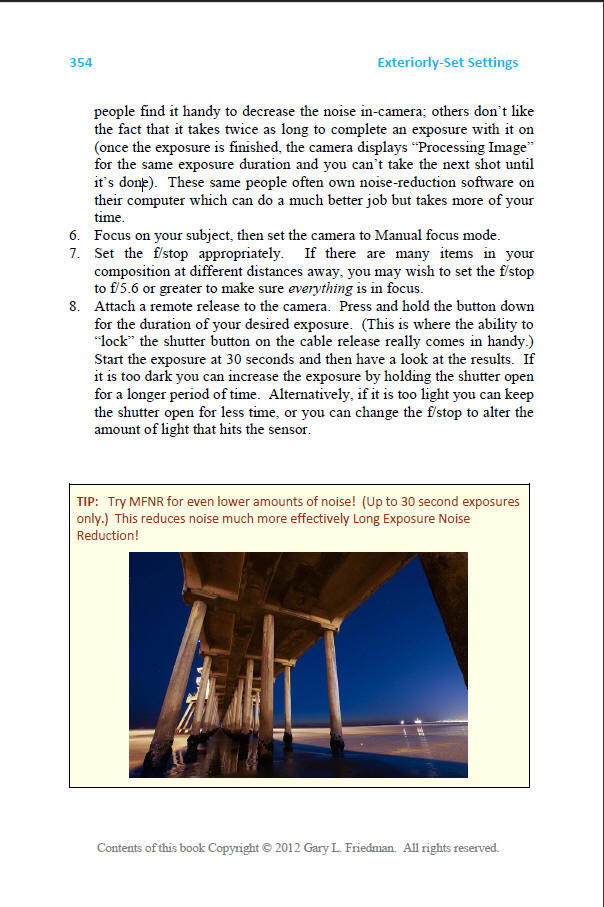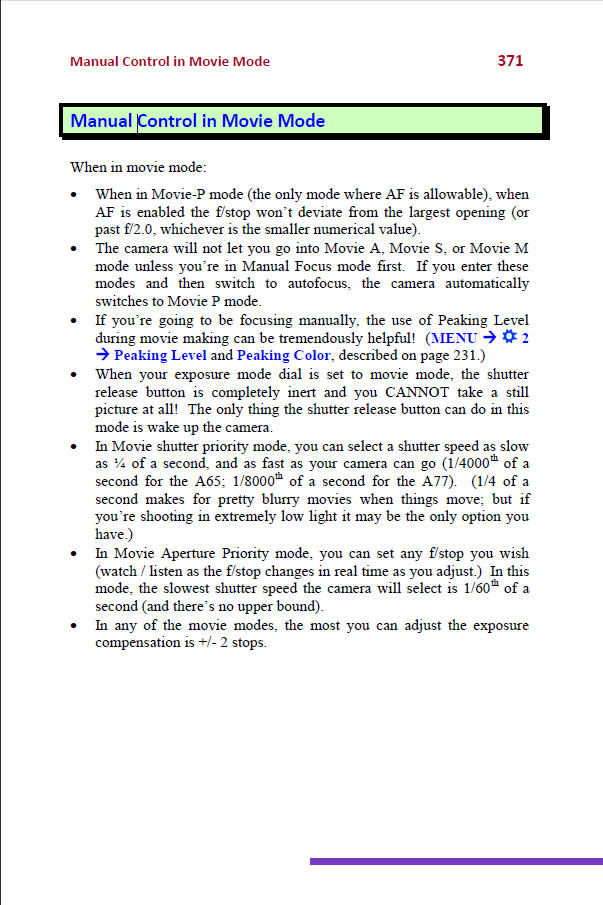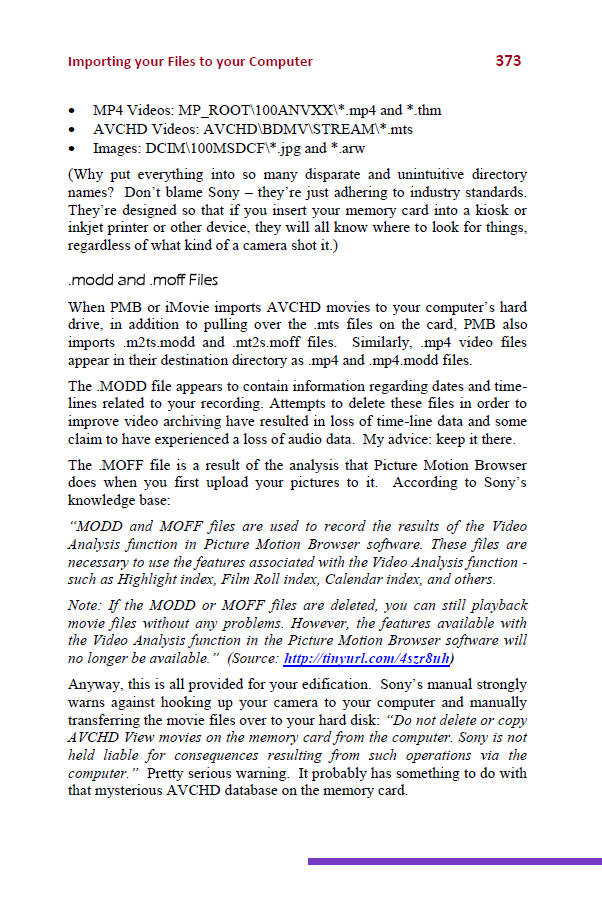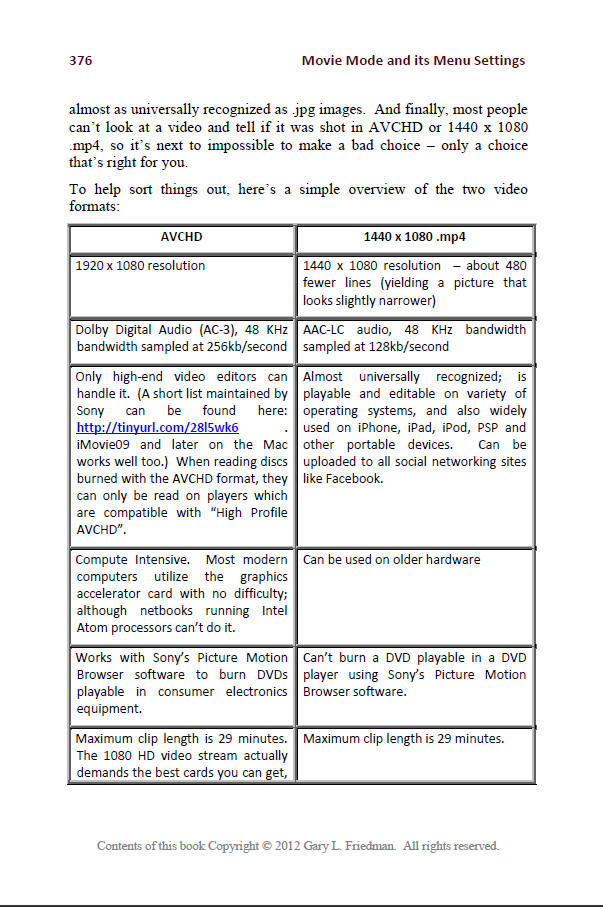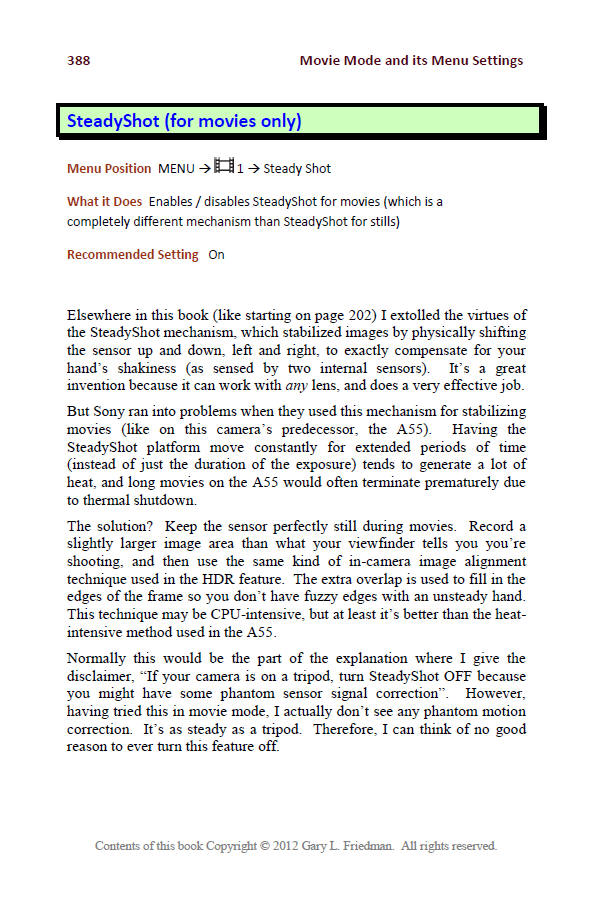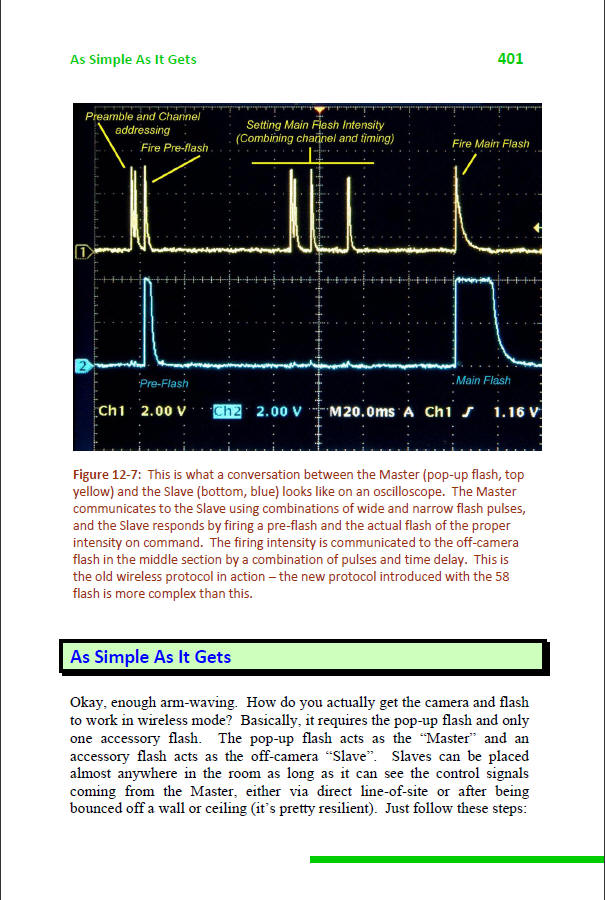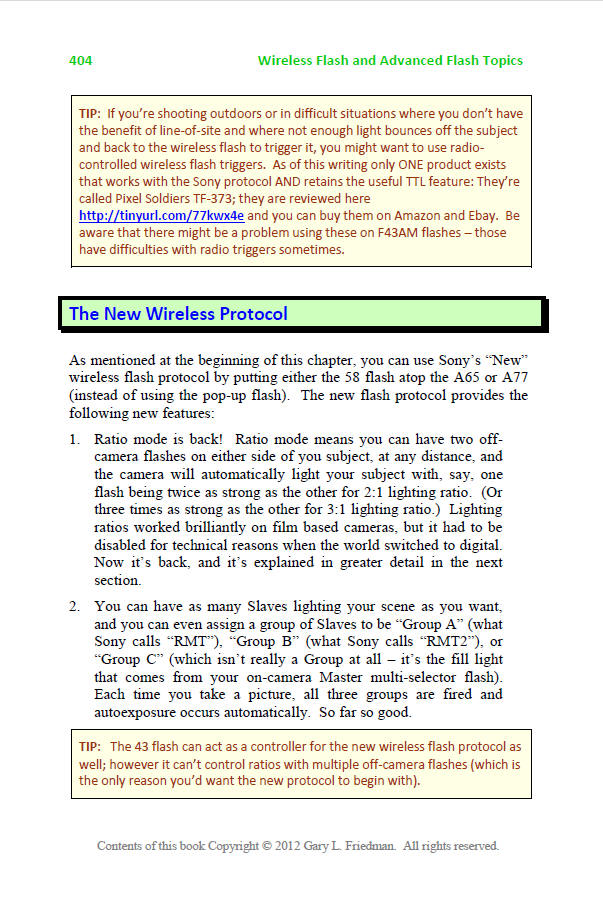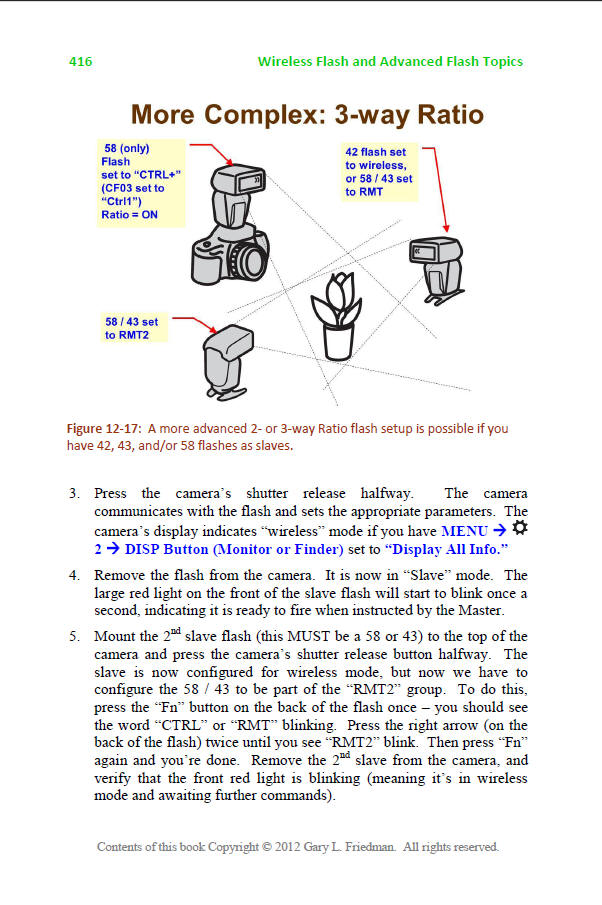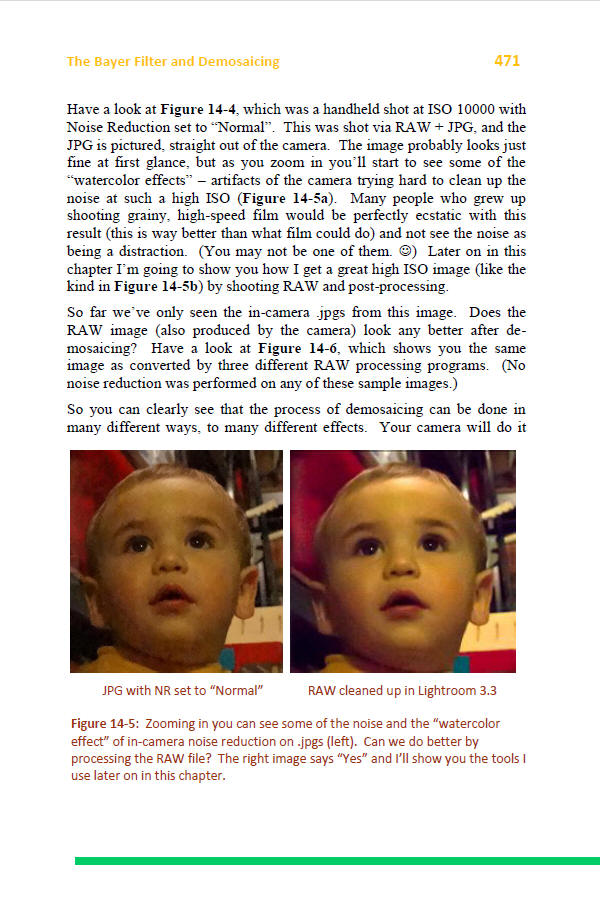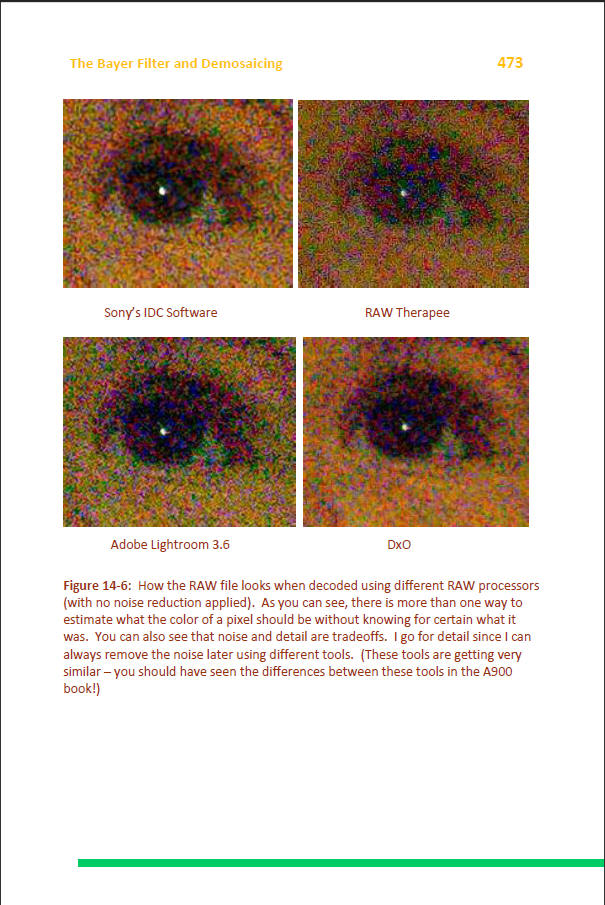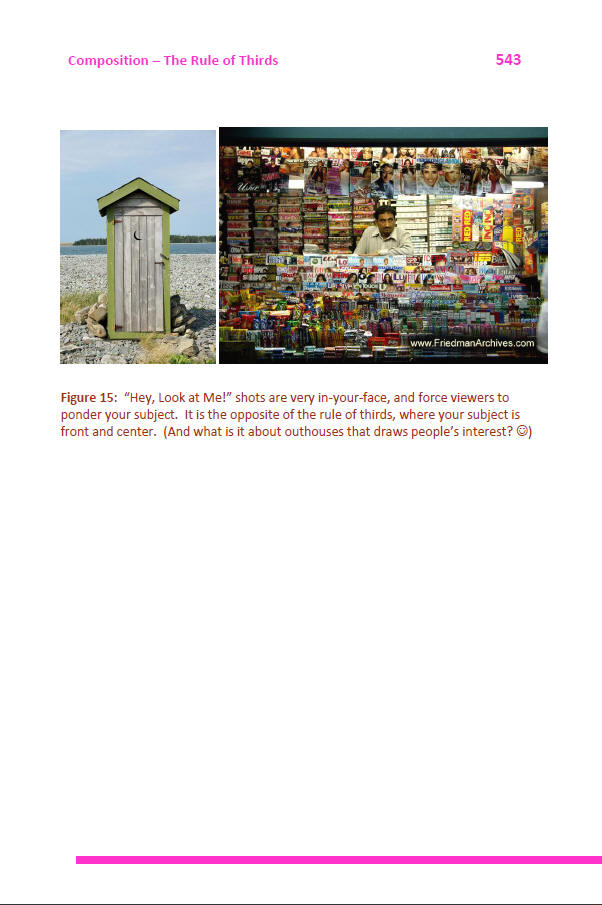 ---
Chapter 1 The Alpha 65 and 77 in a Nutshell
World's Highest-Megapixel APS-C Sensor.
World's Best Electronic Viewfinder
Olympic-style shooting speeds.
Handheld Twilight / Multi-Frame Noise Reduction
Three Low-Light Modes Compared
Handheld High Dynamic Range (HDR)
Electronic First-Curtain Shutter
An A65-only feature: Built-in guide!
Face Detection / Face Registration
Scene Selection Modes and Auto+
Sony and Minolta Lens Nomenclature
Frequently Asked Questions about Lenses
Chapter 2 Quick Guide for the Impatient User
The "Images Remaining Counter"
How does the camera know what to focus on?
Autofocus Using Face Detection
Autofocus (AF) / Manual Focus (MF) Switch
Single-Shot AF / Continuous AF Focusing Modes
Continuous Shooting and Memory Cards
Chapter 3 The Function (Fn) Functions
What exactly changes when you bracket?
Slow Sync Flash (A77 only - not in the menu)
Multi-Frame Noise Reduction (MFNR)
Specifying Auto ISO Boundaries (A77 only)
Less-than-100 ISO Values (A77 only)
Center-weighted and Multi-Segment Metering
Auto White Balance and Pre-Set White Balance
Tweaking the Pre-Set White Balance
Dynamic Range Optimization and HDR
How do these effects differ from before?
Chapter 4 The "Recording" (Camera icon) Menu Settings
Panorama / 3D Panorama Functions
Other ways to view 3D .mpo Files
Chapter 5 "Custom" (Gear icon) Menu Settings
DISP Button (Monitor & Finder)
For Viewfinder (Rear LCD only)
Chapter 6 The "Playback" Menu Settings
But what if you have an older analog TV?
Slide Show using the Optional Infrared Remote Commander
Printing the Date on the image
Chapter 7 Memory Card Menu Settings
Chapter 8 Date, Time, and Area Menu Settings
Chapter 9 The "Setup" (Wrench Icon) Menu Settings
Upload Settings (Eye-fi card only)
Chapter 10 Exteriorly-Set Settings
10 / 12 pictures per second mode
Smart Teleconverter / Focus Magnifier Button
Viewfinder Eyepiece Diopter Correction
Flash Sync Terminal (A77 only)
Remote Commander (Infrared) Receiver
Chapter 11 Movie Mode and its Menu Settings
Importing your Files to your Computer
Why is my camera warning me when I change formats?
"Can't Record this Kind of Movie"
Chapter 12 Wireless Flash and Advanced Flash Topics
Intermixing the New and Old Flashes
Ratio Flash using a 36 and/or 56 as slaves
Advanced 2- or 3-way Ratio Flash using a 42 and/or 58 as slaves
Will the Control Bursts Affect Exposure?
To put the 56 into Manual Slave mode
To put the 43 and 58 into Manual Slave mode
To put the 42 into Manual Slave mode
Balancing Ambient Light and Flash
Frequently Asked Questions about DRO
Combining with Sunset Image Style
Chapter 14 Digital Imaging Topics
The Bayer Filter and Demosaicing
Any Other Upsides to Shooting .JPG?
RAW Processing using RawTherapee and NeatImage
RAW Processing using Lightroom 3.3 or Adobe Camera RAW CS5
A Final Rant About High-ISO Noise and Camera Reviews
Some Background on MemoryStick Pro Duo
Some Background on SD Memory Cards
Chapter 15 Additional Resources
Internet Forums and Discussion Boards
An Introduction to Sony's Wireless Flash (video)
The Friedman Archives Seminars
Facebook and The Friedman Archives Blog
Appendix A A Condensed Guide to the Basics
Brightness range, sensors, and the human eye
Using the Histogram for a fin(d)er degree of control
The "Secrets" to Light and Composition
Composition – The Rule of Thirds
Appendix B A "Cookbook" for Special Shooting Situations
Stage Performances / Rock Concerts
Hey, did you ever expect to get so much information for only about 25 bucks??
Back to the Friedman Archives Home page