---






The Friedman Archives Newsletter
October 2009
---
In this issue:
How to Shoot a CEO
Another Benefit to High-Speed Sync
Seminar Updates
A Solution to the "Texting While Driving" Problem
New Ebook: A330 / A380; Update to the A900 / A850
---
I'm using a smaller font this month for the newsletter. Let me know if you prefer this look.
How to Shoot a CEO
Last month I had the pleasure of doing a studio session with the CEO of C4 Worldwide/ C4 Finance Group. Using my usual poor man's studio (and my A900 and 80-200 G lens) I captured a wide variety of poses that would be used for marketing purposes throughout the year.
In this session (as with all of my photo sessions), I covered my bases with the formula Executive poses, but I also wanted to do one better - I wanted to really capture his personality and enthusiasm, and wanted to get away from the stoic and lifeless portraits that typically infest annual reports. And so I blocked out about 3 hours to do this shoot. He came with several changes of clothes, and I invested a lot of time getting him comfortable in front of the camera. We shot. I showed him the results. I had him tell me a story. And I think the pictures conveyed his personality pretty well.
Another Benefit to High-Speed Sync
In the past I have mentioned that the Morse-code "FIRE!" command used in the Wireless Flash protocol happens after the shutter has already opened, and because the intensity of the Morse-code commands is relatively small, it will probably never be noticeable in your shot. However, there are situations (like when you're shooting up close and wide open) when it will show up, and in the past (like last month) I have always recommended putting an IR filter in front of the controller flash to eliminate this possibility.
While presenting the Nashville seminar, one of the attendees, Rick Werp, also reminded me of a property of High-Speed Synch flash which also can completely eliminate the "FIRE!" command from showing up in your image. And he even created some test shots (which were designed specifically to make the "FIRE!" command look as bright and distracting as possible) showing how well the technique works!
Here's what he did. He had a nice glass sculpture in a display case, with a mirror behind and a piece of glass in front. (I can't think of a better worst-case scenario!) He then took two wireless flashes, and placed one on the glass shelf above (pointing down) and the other on the shelf below (pointing up), to illuminate the sculpture from above and below. The first shot shows the result when shooting at 1/200th of a second (with HSS OFF); as you can see the "FIRE!" command not only can be seen off the rear mirror, but its reflection off the front glass can be seen as well.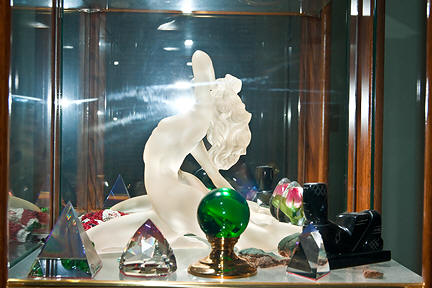 The next shot was taken at 1/250th of a second, at which speed the HSS feature automatically turns on: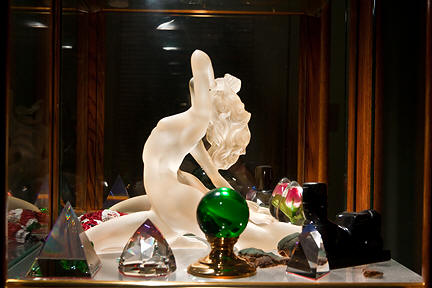 Why does it work? In HSS mode, the "FIRE!" command actually occurs BEFORE the shutter starts traveling, whereas in normal, non-HSS mode, it waits until the shutter is open completely before issuing the "FIRE!" command. (This cuts down on shutter lag a little bit.) Knowing this fact has enabled this difficult shooting situation to be executed beautifully without the need for infrared filters. Thanks, Rick!
Seminar Updates
The New York seminar is barely a week away (October 17-18, 2009)! And there's still room (and great deals on hotel rooms on Priceline.com! :-) )
After that comes Southern California (November 14-15, 2009), which should be a lot of fun. These seminars are designed to cut through the complexity of digital photography and give you the practical essentials of how to take pictures that make people say, "Wow!". But don't take my word for it! Have a listen to some of what previous attendees have had to say:
"What you teach in these two days can change an ordinary photographer and turn them into an exceptional photographer" – Rod Shean
"[Y]ou helped me find the fun in photography again, and for that I am very grateful." - Brian Dennick
"Some years ago I took another class and I felt it was too technical and not easily understandable. Yours covered the same topics and was delightfully clear!" – Kathleen Beres
"You have an unusual set of skills. You are technically proficient and can share that knowledge with others in a way that makes it understandable and easy to put into practice. I will certainly participate in future seminars even if they are not as close to my home." - George Saadeh
"Wow! Only a couple of hours with Gary and I was ready to "capture" the world. Gary is very informative with a wealth of knowledge. His humor and enthusiasm captivated the audience. A day well spent!" - Todd McClenaghan
And some of these quotes came from people who have been taking pictures for more than 30 years! So, if if you've got a hankerin' to invest in yourself and join the fun, you can sign up for an upcoming seminar or register your interest in a particular city by clicking here.
A Solution to the "Texting While Driving" Problem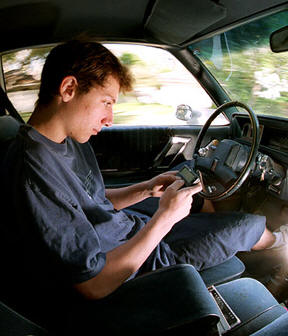 Here in the states there is a flurry of legal activity going on, trying to make texting while driving illegal on a national level. This is a topic of great interest to me, for back in my NASA days I had come up with a solution to this problem which I believe belongs on today's mobile phones.
I called it the "Data Egg"; it was a new type of typing scheme which allowed you to type in any position, while walking, running, lying down, and yes, even driving - without ever having to take your eyes off the road. Originally designed to be a keyboard for astronauts (how does one type while floating in space?), it became clear in the early 1990's that it was also an ideal data entry solution for SMS messaging. I built a crude prototype for myself just so I could capture the never-ending stream of thoughts and ideas that came to me at the worst possible times (I even published a few booklets of captured ideas over the years). I also set up a web page to promote the idea (an idea which had its share of rabid supporters), which I have kept alive for posterity: www.DataEgg.org. This site goes into the history, shows pictures of the many prototypes, uses, and suggested niche markets.
I spent more than a dozen years trying to commercialize the Data Egg typing scheme, an idea which was received poorly by investors: "Who would ever want to learn a new way to type just to use it?" (Answer: When the solution is compelling, people will learn all sorts of things. The original Palm PDA required learning a new alphabet to do data entry. SMS messaging meant learning how to type on a 10-key. Visicalc meant that suits had to learn DOS. You get the idea. And teenagers don't mind learning new things when there's a perception of coolness associated with it.)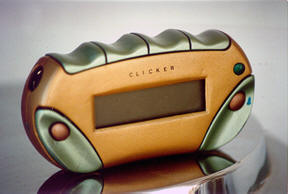 If I were to try to market the idea today I would create one in the form of an external bluetooth keyboard, making it a solution that can work off-the-shelf nearly every smart phone out there (except the iPhone, of course). But since most of the intellectual property associated with this idea has expired, I'm encouraging all the hardware and software geeks of the world to create an open source version of this device, and let me have a copy once it's in production.
("What does this have to do with photography?", I hear you ask? Well, see that stock shot above of a teenager texting while driving? I put a wireless flash on the transmission hump facing toward him, giving him dramatic light. I also shot at 1/15th of a second so the blur out the window would make it clear that the car is moving as he's doing this. (Yes; we staged this shot in a parking lot.) So there you go!)
New Ebook: A330 / A380; Update to the A900 / A850
I just finished the book on the new Sony Alpha 330 and Alpha 380 cameras (that's my Mom on the cover!), and am in the process now of updating the A900 book to also include the Alpha 850 (plus many other enhancements sprinkled throughout, including details on using the HVL-F20AM flash to trigger the wireless flashes). If you've already purchased the A900 ebook or have registered your purchase of the printed version (you have to register, since Lulu.com doesn't share customer information with me) you'll be notified of where to download your free .pdf file. (As with all of my other ebooks, all customers are entitled to free upgrades for life.) Once that gets finished I'll start on the A500 / A550 camera, which I'm actually quite excited about.
Until next time...
Yours Truly,
Gary Friedman
P.S. - One of the problems with the smaller font is that the newsletter seems so much shorter than in previous months! I assure you, the average length is roughly the same. :-)
Back to the Friedman Archives Home page